The Corn Maze
at South Mountain Creamery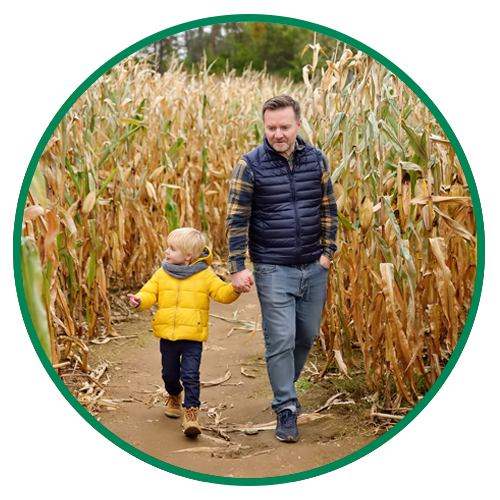 Join us for our first corn maze at South Mountain Creamery in Middletown, Maryland! Open 7 days a week, pick your path as you walk through the main corn maze, or take the little ones through the mini maze made just for them!
Other attractions include the pumpkin patch, Nigerian Dwarf goats, playground and pavilion, live music, and more.
Keep scrolling to learn more about SMC's Corn Maze Crawl, our 21+ older event on Saturday, October 15th!
LIVE Music
We'll have free live music throughout the season, plus the South Mountain Kitchen Food Truck will be onsite serving food and drinks, and beer and wine will be available for purchase.
THE CORN MAZE IS OPEN
September 24 through October 31, 2022

Monday through Friday – 11 a.m. to 5 p.m.
$10 per person. Free for ages 2 and under.
Tickets include entrance to the corn maze and pumpkin patch.
Saturday – 10 a.m. to 6 p.m.
Sunday – 11 a.m. to 6 p.m.
$15 per person. Free for ages 2 and under.
Tickets include entrance to the corn maze, pumpkin patch, and a hayride!
Corn Maze Crawl
21 & Older Only Event
Saturday, October 15 from 4:30 to 6:30 p.m.
The only corn maze you'll want to get lost in! South Mountain Creamery will be hosting four local wineries, breweries, and distilleries for the ultimate corn maze experience! Orchid Cellar Meadery and Winery, Puerto Rico Distillery, Fordham Lee Distillery, and Smoketown Brewing will be hidden inside the maze offering free samples. Full pours and beverages will also be available for an additional purchase outside of the maze. Make sure to stick around for live music from Mark & Da Sharks and the South Mountain Food Truck for your favorite farm-fresh eats from 2 to 6 p.m. Tickets are $25/person (or $10/person for designated drivers).