The ice cream shop & Pizza
At South Mountain Ice Cream Shop & Pizza in downtown Frederick, MD, we take your favorite sweet and savory treats to a whole new level.
Fresh-from-the-farm ice cream is transformed into tasty treats like sundaes, milkshakes, and more. We even make our own waffle cones in-house and have just about every topping under the sun. For example, we bet you've never heard of a Breakfast Trash Sundae. It's a whole heap of our farm-fresh Vanilla Ice Cream infused with Cap'n Crunch, Frosted Flakes, Corn Pops, Fruity Pebbles, Fruit Loops, house-made caramel sauce, whipped cream, and a cherry on top. It is a "wake up early, run down stairs, and watch cartoons" type of sundae.
In the mood for something savory? Try one of our legenDAIRY farm-fresh pizzas, made from scratch using fresh, local ingredients. Pizzas are 14" – the perfect size for two! From our farm to your tummy–it doesn't get better than that!
Online Ordering
Order a scratch-made pizza or over-the-top milkshake for easy pick-up or local delivery! Lunch specials available Wednesday through Friday.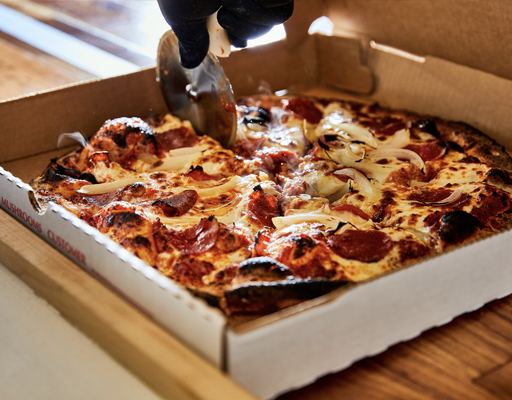 Monday – Tuesday: Closed
Wednesday – Thursday: 12 p.m. to 8 p.m.
Friday – Saturday: 12 p.m. to 9 p.m.
Sunday: 12 p.m. to 8 p.m.
Kitchen Closes at 8 p.m.
(301) 383-8790
50 Citizen's Way Suite 101,
Frederick, MD 21701
Follow us on social media to stay up to date on all the latest news and events!
Our Ice Cream
South Mountain Creamery is the proud 2021 Best of Frederick winner in the Ice Cream and Frozen Dessert category!
We've got a long list of ice cream flavors! Have you tried them all? Which one is your family's favorite?