As of December 24, 2022
Our Chambersburg Retail Store is Permanently Closed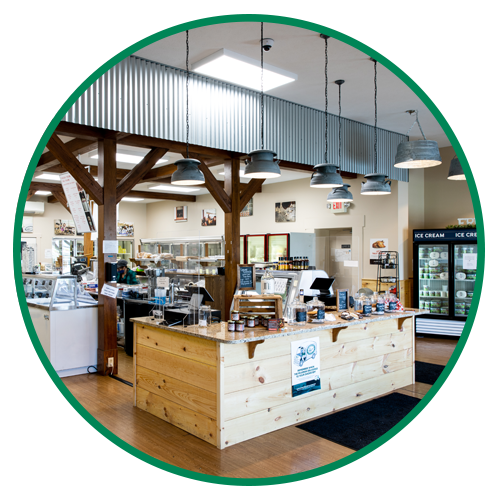 South mountain ice cream shop & Cafe
Though our retail store is closed, our Chambersburg production facility will continue making the quality dairy products you know and love. You can continue to find South Mountain Creamery products at Karen's Kountry Store in Middletown, MD, and at our Downtown Frederick, MD Ice Cream & Pizza Shop.
South Mountain Creamery Ice Cream Shop & Cafe, located in Chambersburg, PA, is your one-stop shop for all things farm-fresh. Pop in for a hearty lunch featuring artisan ingredients, or bring family and friends and make some memories over delicious ice cream treats. From sandwiches and soups to salads and wraps, our lunch menu has something for everyone, and our ice cream counter serves up over-the-top sundaes, milkshakes, and more.
In addition, the Ice Cream Shop & Cafe offers a variety of local products, from dairy and ice cream to produce and meat, and plenty of pantry items like coffee, honey, granola, and jam.
When you shop at the South Mountain Creamery Ice Cream Shop & Cafe, you're supporting local, family-owned farmers, artisans, and vendors.