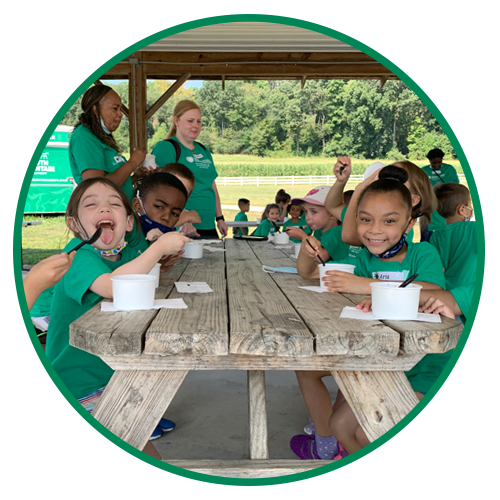 Let us show you around the farm!
Schedule a guided tour of the South Mountain Creamery farm for your group, whether you're a family, school group, camp, scout troop, church, or something else entirely!
Spend a day on the farm
We love having the opportunity to share our passion for farming and food with others. When you take a guided tour, you and your group will learn first-hand about farming, the importance of agriculture, and what really happens on the farm each and every day.
Guided tours are available April through September for groups of 10 or more. Children ages 2 and under are free.
We also offer a discounted guided tour every Saturday at 2 p.m., small and large groups welcome! Click here to learn more.
$10 per person includes a one-hour tour, goodie bag for school-aged children, and one scoop of ice cream.

Guided Tours + Calf Feeding
$15 per person includes everything in the basic tour, plus a personalized bottle feeding of one of the newest members of our farm family, the calves. With this option, your tour will begin at 3 p.m. to accommodate the 4 p.m. calf feeding time.

Other Fun Farm Activities
There's so many fun things happening on the farm that a guided tour can be just one part of a fun-filled day spent here. Take advantage of our other activities and amenities, including the playground and covered pavilion. The pavilion can host parties of up to 50 people, so pack some lunches, round up your friends, family, or special group, and enjoy all that we have to offer.

SCHEDULE YOUR TOUR TODAY!
We strive to create meaningful experiences for you and your community, and teach others about the impact and importance of agriculture in our daily lives.
To request more information about guided tours, complete the form below:
*Required Fields